I
don't like tooting my own horn, but...
I won the Stylish Blogger Award!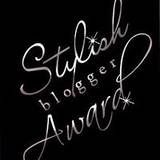 W
hat an honor for such a recent arrival to the blogosphere!
S
arah, over at
Hood Photo Blog
, was kind enough to include me in
her list of bloggers receiving the Stylish Blogger Award
. Sarah writes one of my favorite blogs, featuring some really beautiful photos and observations of the Mt. Hood area.
T
he award comes with some rules about how to share the love (below). Choosing who to pass the award on to is the easy part (check recent posts from some good contenders in the sidebar). It's the "share 7 things about yourself" part that will take a little time and thought. For now, I just wanted to say thank you - to Sarah and to my readers.
S
tylish Blogger Award Rules:
1. Thank and link back to the person who gave you the award.
2. Share 7 things about yourself.
3. Award 10-15 blogs who you think deserve this award.
4. Contact these bloggers and let them know about the award.